It is my great pleasure to send this note as we recover from our Thanksgiving Day feast!Since the publication of my most recent book, I have had many requests asking about the Habit epigenetic testing for "personalized nutrition" discussed in Change Your Genes – Change Your Life.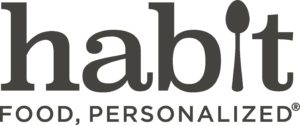 Now, this weekend only (Friday – Sunday) Habit will provide access to their assay at 50% off! That means the regular price of $299 will be $150 for the next 3 days only, and further savings are available for those who have a DNA report already! These make thoughtful gifts for those we love.
So take the guesswork out of eating right with a science-based at-home test and this weekend only, and get 50% off your Habit personalized nutrition plan with promo code ChangeYourGenes50.
Habit is taking the guesswork out of eating right. For everyone. For life. Habit is a personalized nutrition company that's making optimal nutrition possible.Unlike one-size fits all diets, Habit uses an at-home test to uncover details about your genetics, lifestyle, metabolism, and goals to design personalized eating recommendations for the one, unique you. 
Habit is founded on the deep science called "systems biology" a holistic, integrated approach to understanding our bodies. For additional support, Habit's team of Registered Dietitians offer nutrition coaching and counseling employing behavioral science and motivational interviewing.